News Feeds
Listen to the latest episode of the podcast for a rundown of the economy, recent mergers and acquisitions, and key financial metrics for the linen, uniform and facility services industry. https://t.co/rZY4j4lAWb
Twitter feed video.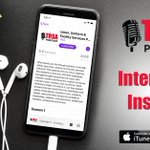 Former Kannegiesser USA President Passes Away - https://t.co/z19d2uPdxg
Cintas to Cease Processing at Granby, Quebec, Facility - https://t.co/GQwNbj3ptx
Ricci Pens Article on Laundry Hygiene - https://t.co/zOEcEFgYx9
Columbus Day – TRSA Office Schedule - https://t.co/6Lu8Gr5Yql
Ecolab Makes 'Transformation 20' List of Businesses - https://t.co/9SDfti4ESv
The fashion resale market has grown 21 times faster than first hand fashion retail over the past three years. According to @thredUP secondhand fashion Is projected to grow to nearly 1.5x the size of fast fashion by 2028. Via @FashionUnited https://t.co/ipJ34i7TmF
Load More...
Listen to the latest episode of the podcast for a rundown of the economy, recent mergers and acquisitions, and key financial metrics for the linen, uniform and facility services industry. www.trsa.org/podcasts ... See MoreSee Less
Load more